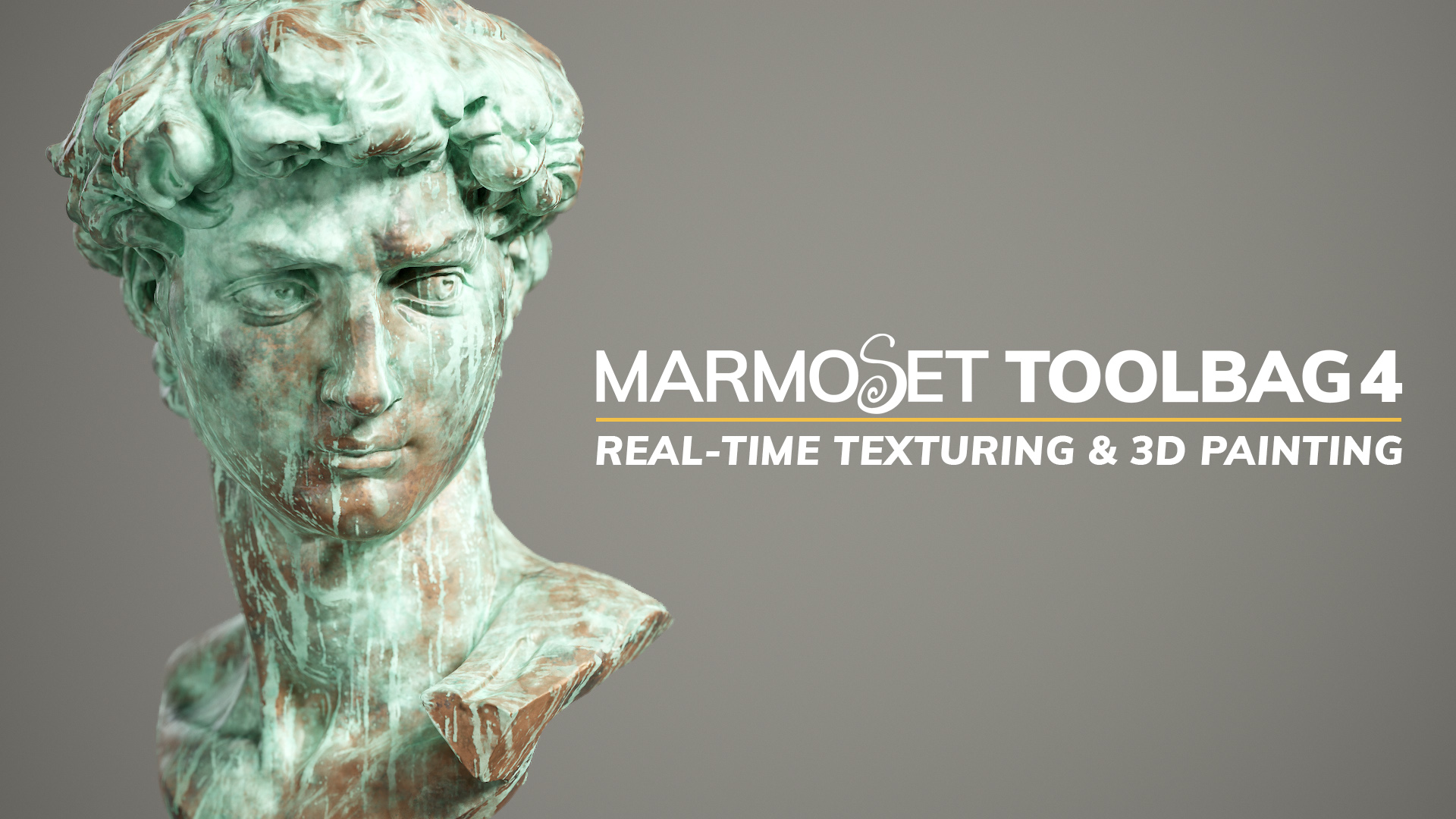 Texturing in Toolbag 4
Our mission for Marmoset Toolbag is to provide 3D artists the most complete real-time baking, texturing, and rendering pipeline to prepare the highest-quality artwork for games, film, 3D visualization, and more.
Toolbag 4 expands its appeal by introducing a robust 3D texturing and painting system, empowering artists to create physically accurate materials in real-time. The texturing system works in synchronization with our industry-standard texture baking tools, and is supported with Toolbag's free, ever-growing asset library to source materials, smart materials, textures, HDRI skies, and more.
Get a quick primer on how to wield this new toolset with our abundant resources, and check out the texturing showcase gallery below to see how artists have leveraged the power of texturing in Toolbag 4.
Painting in Action
Real-time painting and direct editing of materials inside the 3D viewport has never felt this breezy. Make live selections in your 3D viewport and 2D canvas spaces, swiftly rotate and scale textures, drag-and-drop materials onto color IDs, and create your own style of marks with the flexibility of fully customizable brushes. Learn more about what Toolbag's texturing system has to offer.
The Latest in Texturing
Toolbag 4.03 has introduced widely requested features to the texturing system: interactive color picker samplers, straight-line painting, brush tip contrast and warp, and sprite sheet materials for extra bespoke mark making. Get an in-depth preview of what's new in our 4.03 announcement.
Resources Galore
Don't know where to start? Get a snapshot of the system with our Intro to Texturing video tutorial, released as part of our Learn Toolbag 4 series. After which, take a deeper dive with the Advanced Texturing episode, where you can watch the process of baking, texturing, and presenting an embalming machine from start to finish – all within Toolbag.
The Proof is in the Pudding
We're thrilled to showcase a portion of outstanding artwork that was entirely baked, textured, and rendered in Toolbag 4.
Start Texturing in Toolbag!
Download Toolbag 4 today, and take texture projects for a spin – all new Toolbag 4 users receive a free 30-day trial license. Share your artwork with the community in our Toolbag User Group on Facebook and the Marmoset Discord server.