Arrange Your Space
Optimize your workflow using Toolbag's new Workspaces. From scene setup to final render, default Workspaces are available for every stage of production.
Toolbag's new UI is completely customizable, so save your own workspace presets too.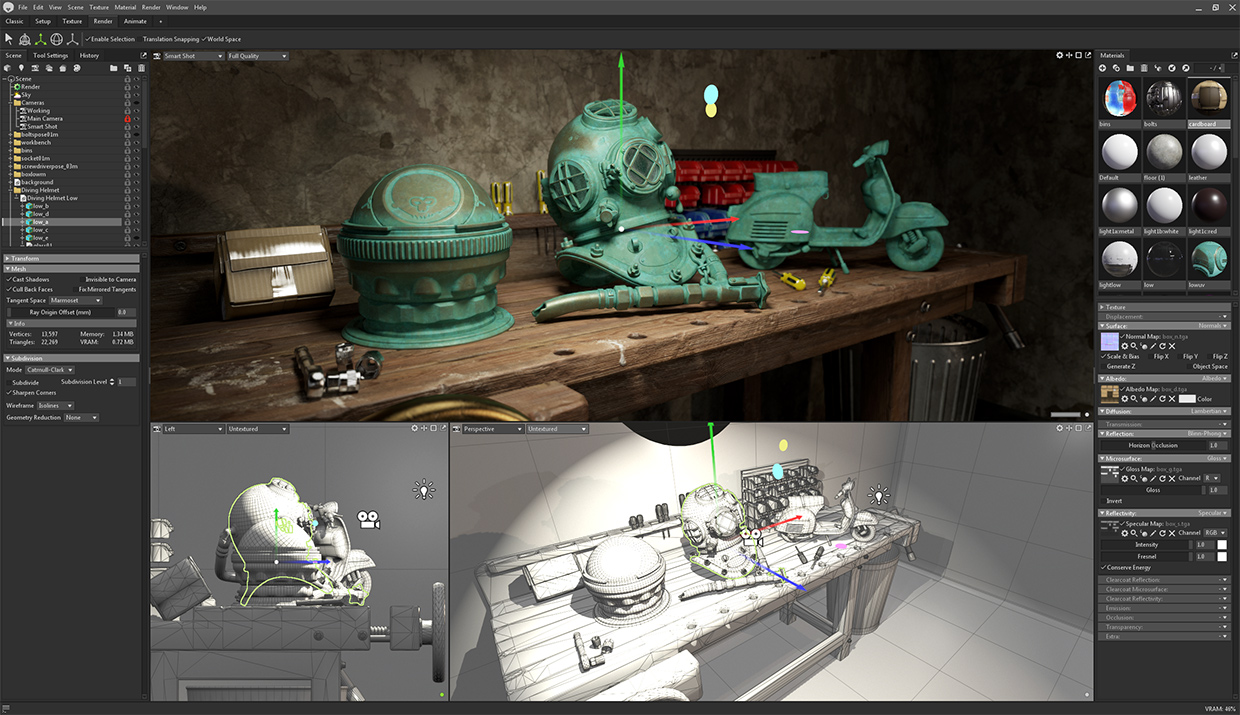 Craft Your Scene
Import an existing scene from your 3D package of choice, or build from scratch.
With Toolbag's core editor tools you can quickly build and light a scene for real-time lookdev, or set the stage for that perfect final render.
Set Up Materials
Toolbag's modular approach to shader setup is clean and robust. Material templates preserve shading models specific to your target engine and production environment, making material previews simple and accurate.
Explore advanced shader possibilities of refractive glass surfaces, a clearcoat on your latest set of wheels, or volumetric subsurface scattering for compelling skin.
Put It In Motion
Showcase your artwork with a cinematic flair using Toolbag's flexible animation system.
Import animation sequences via Alembic and FBX, craft your own with Toolbag's Keyframe and Timeline editors, or add a Turntable object to your scene for an automated 360° capture.
Universal Scene Description (.usd, .usda, .usdc)

Autodesk FBX (.fbx)

Wavefront Object (.obj)

COLLADA Model (.dae)

AutoCAD DXF (.dxf)

3D Studio (.3ds)

Polygon File (.ply)

Marmoset Mesh (.mesh)
Universal Scene Description (.usda, .usdc, .usdz)

Marmoset Viewer (.mview)

WebGL (.glTF)

Autodesk FBX (.fbx)

Wavefront Object (.obj)

Marmoset Scene Bundle (.tbscene)
Targa Image (.tga)

Bitmap image (.bmp)

DirectDraw Surface (.dds)

Photoshop Document (.psd)

Photoshop Large Document (.psb)

TIFF Image (.tif)

Portable Network Graphics (.png)

JPEG Image (.jpg)

Portable Float Map (.pfm)

Radiance HDR (.hdr)

OpenEXR (.exr)

Marmoset Picture Format (.mpic)
DOWNLOAD
Activate a free 30-day trial:
Download & Install Toolbag 4.
Run the software.
Click 'Sign Up' on the welcome window to register for an account.
Check your inbox to confirm your new account.
Return to Toolbag and log in. A free trial license will be automatically created upon login.