We're proud to announce the release of Toolbag 4.06, a free update for all Toolbag 4 users. The main focus of this release is the extended support of the USD file format, also known as OpenUSD, which is gaining wide support across the 3D software industry. We've also added an Object presets folder to the Library so you can quickly block out scenes with premade assets and save custom assets to reuse or share with other users.
Improvements have been made to Toolbag's 3D painting and texturing tools, along with updates to the rendering system, and you'll find many crash and bug fixes across all systems.
Learn more about the specifics of Toolbag's OpenUSD support capabilities and get a complete view of the update below.
Review the complete 4.06 changelog here.
Toolbag's import and export capabilities for USD improve your ability to transfer mesh, light, and object data between Toolbag scenes and enhance interoperability with Toolbag, DCC applications, game engines, and more. More mesh, material, and lighting properties are now retained throughout the pipeline, minimizing rework.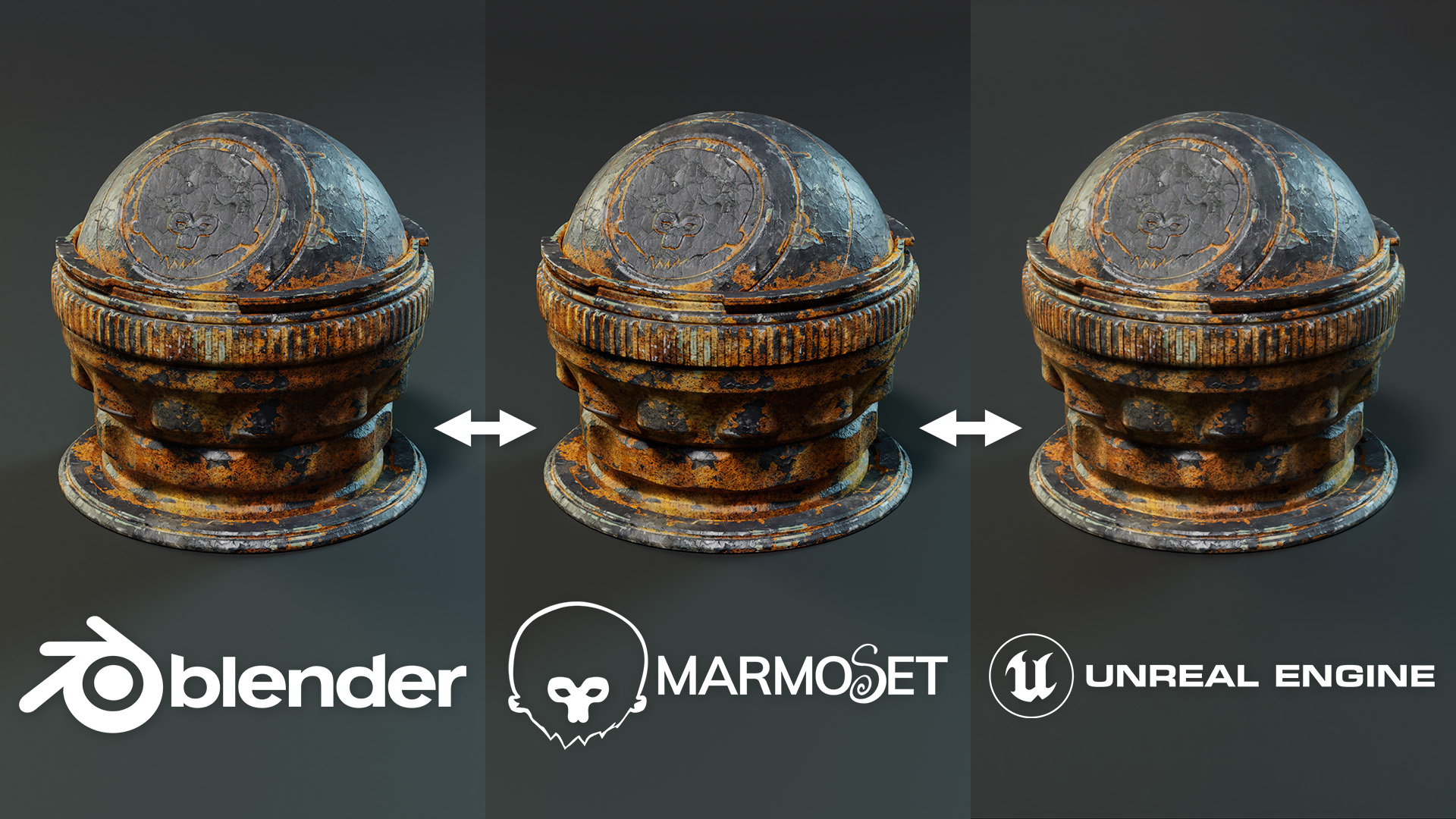 PBR Materials
Common physically-based material values, such as albedo, roughness, and metalness, are retained when importing and exporting USD files your DCC of choice (3ds Max, Maya, Modo, etc.), Toolbag, and game engine. With PBR being the modern standard, this allows you to maintain the accuracy of materials and shading as your content travels between 3D applications. Additionally, this facilitates easy and reliable sharing of files with other artists and studios.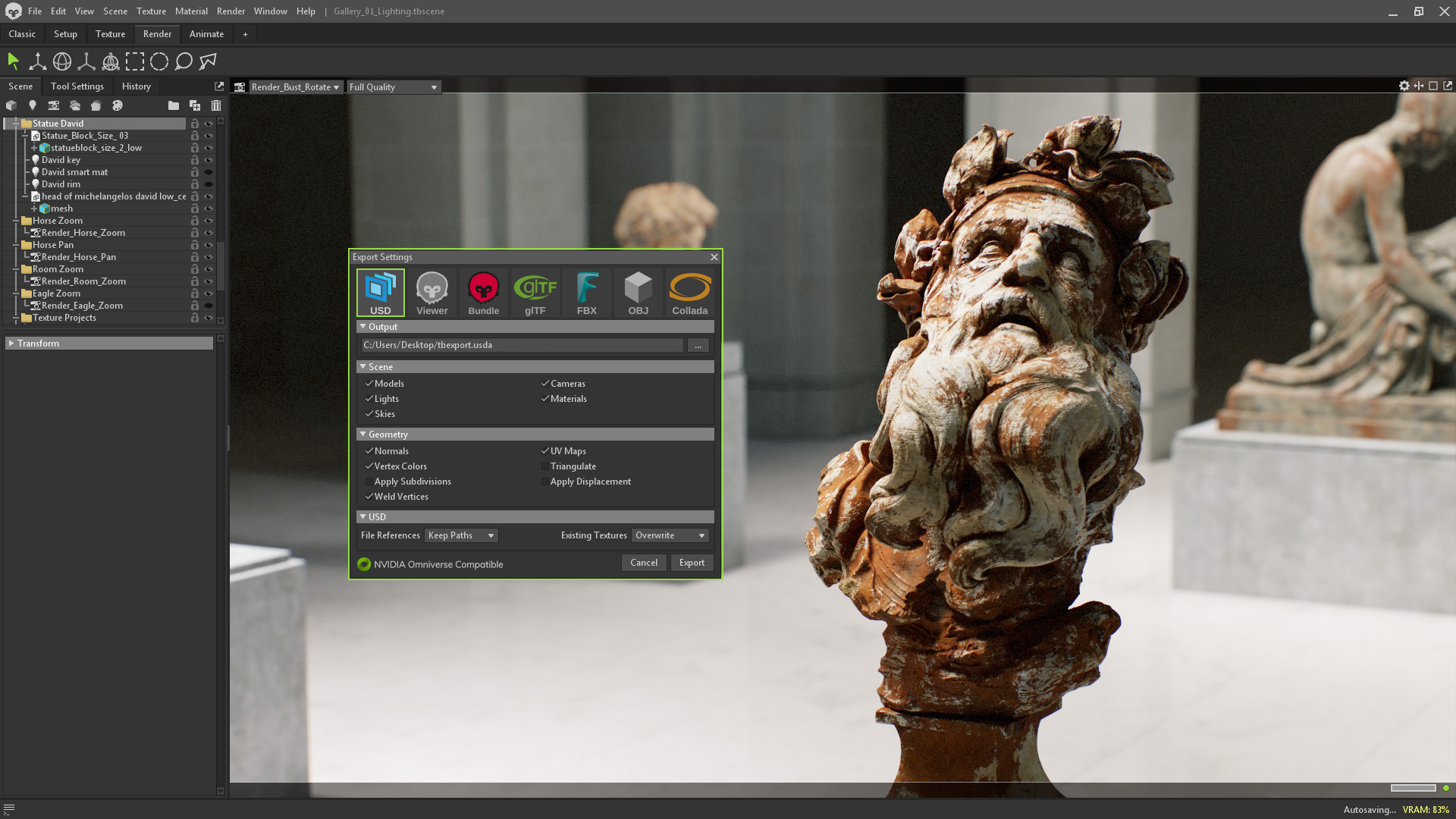 More Than Meshes
Exporting and importing content is now possible on a wider scale with USD file support. We have improved the ability to transfer assets, lighting, and material data between applications. This can be useful for a product visualization workflow, where the accuracy of your data can be preserved when transferred, and the need to adjust properties is reduced.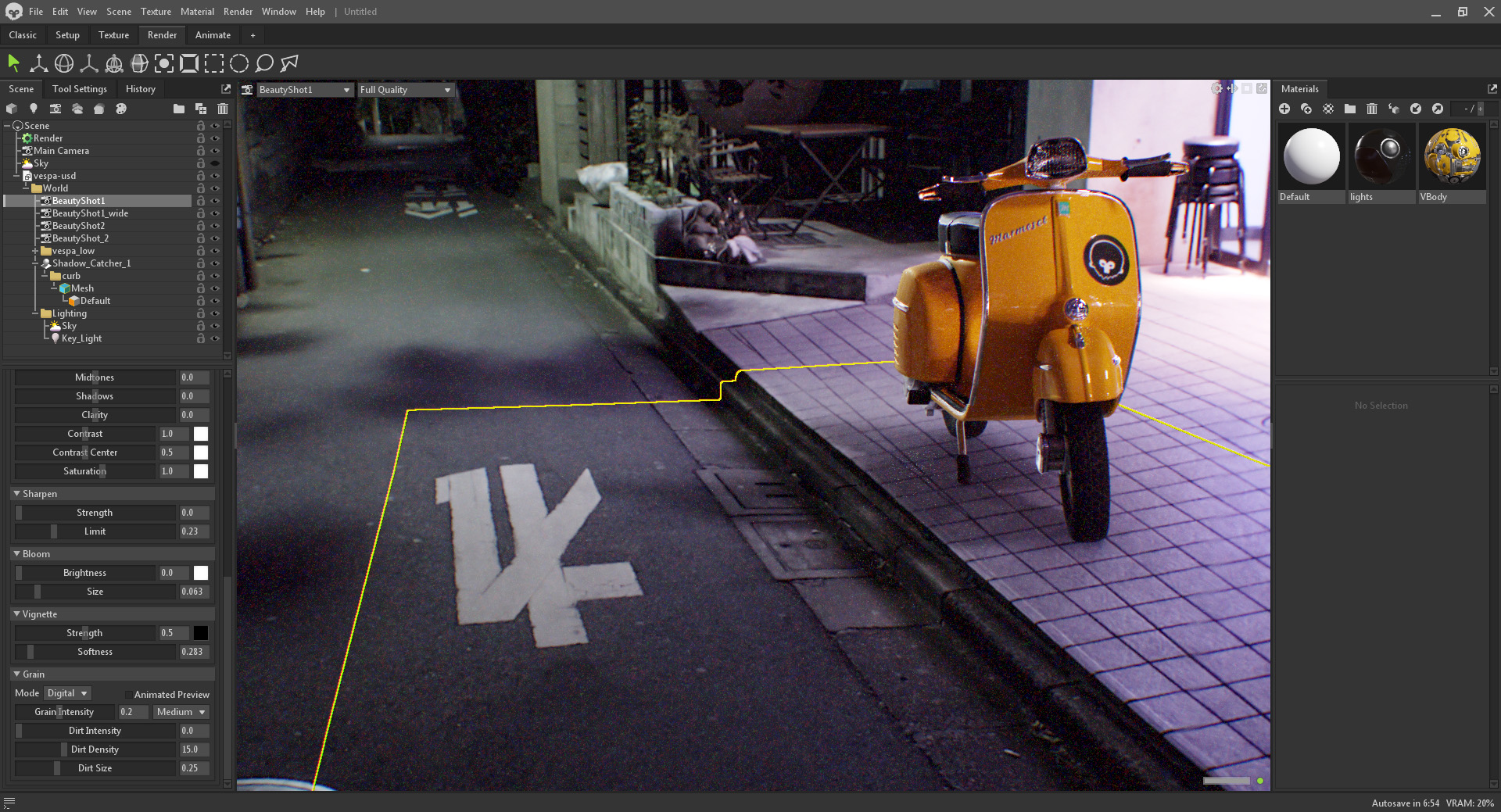 Toolbag Object Support
We've integrated USD support for Toolbag's proprietary object types, including Fog , Shadow Catchers, Turntables, and Cameras. USD export of Camera objects preserves key data like Depth of Field, Post Effects, and Curves. This is useful for users who wish to export and import data between Toolbag scenes.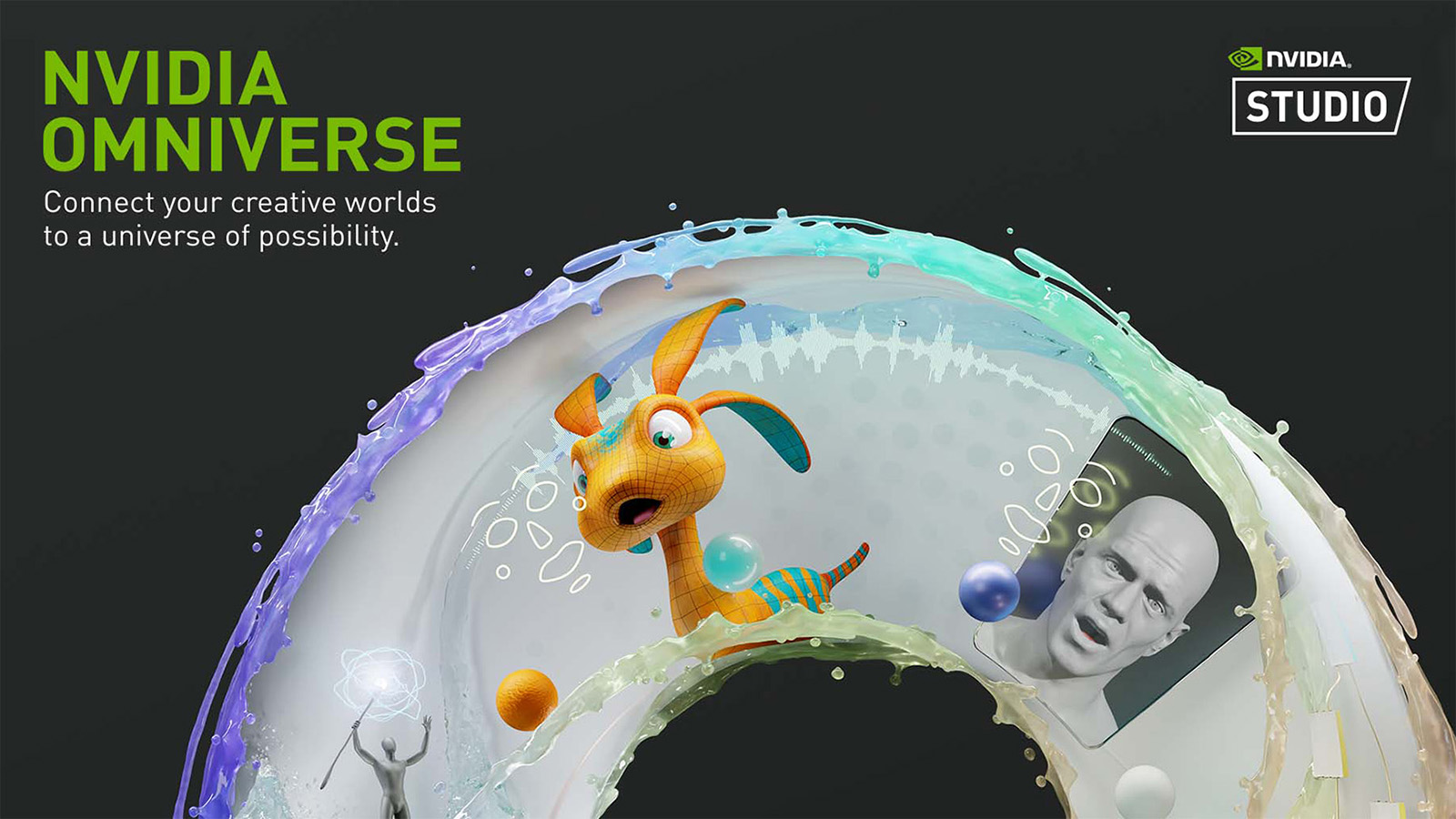 NVIDIA Omniverse Compatibility
With extended USD support, also known as OpenUSD, your Toolbag scenes and assets exported to USD are ready to connect with the NVIDIA Omniverse ecosystem, including your favorite DCC apps and creative toolkits, such as Autodesk Maya, 3ds Max, Houdini, Unreal Engine, and more.
Omniverse is a powerful RTX-accelerated platform for 3D content creators, free and exclusively available for NVIDIA RTX and GeForce RTX GPUs as part of the NVIDIA Studio suite of creative applications and tools.
Omniverse acts as a central hub to seamlessly connect and enhance 3D creative applications, unifying assets, libraries, and tools for a truly uninterrupted workflow. This enables artists to import and edit assets between multiple apps in real-time or even collaborate with another artist in a shared scene, empowering them to achieve new heights of creative freedom.
Object Presets
Build scenes rapidly using the Library's newly added Object presets. Object assets let you speedily draft a scene using prefabricated meshes and lighting setups. Need to add a perfectly UVed primitive or backdrop to your scene or furnish your empty environment with pre-made furniture? Tired of remaking the same 3-point lighting setup? Object presets are your new time-saving companion.
Creating and archiving your own object preset is as easy as right-clicking an object in the Scene outliner and saving it to the Library or simply dragging and dropping a mesh file from your file explorer to the Library window.
Object presets are also useful for smoother pipelines when working with shared repositories in team settings. If you'd like to learn more about how to set up a synced repository for your team, check out our complete Library guide.
New Toolbag Documentation (Beta)
Download Toolbag 4.06 Now!
To download the 4.06 update, check for an auto-update prompt in-app. If you're brand new to Toolbag 4, follow the button below to download the latest full installer and begin a free, full-featured 30-day trial.