Introducing Toolbag 4
The entire Marmoset team is proud to announce the arrival of the next generation of our real-time rendering suite: Marmoset Toolbag 4.
Toolbag 4 features a brand-new ray tracing engine, RTX support, 3D texturing tools, customizable UI & Workspaces, RTX-accelerated baking, and a Marmoset-made free asset library to better serve your rendering and texturing needs. This release once again broadens Toolbag's horizons, becoming a complete rendering and content creation tool for every 3D artist.
Toolbag 4 is available now. Download and register for a free 30-day, full-featured trial.
We also now provide you with two ways to buy: Perpetual or Subscription! You make the choice of your preferred licensing style, and a discounted upgrade option is available to all Toolbag 3 licensees too.
TB3 Users: Toolbag 4 is a paid upgrade and uses a new license and account management system. To begin a free trial of v4 you will need to set a new account password. Use the 'Forgot your password?' form linked on the user account homepage: account.marmoset.co.
For more license management information, review our support FAQs.
Now Featuring…
Ray Tracing For All
Take your image quality to the next level. Toolbag 4 sports a brand-new ray tracing engine, optimized to run on all modern GPUs, and Toolbag's ray tracer is tuned to deliver even quicker results on NVIDIA RTX series GPUs.
Load up your latest artwork and check out the power of Toolbag's new interactive ray tracing!
3D Texturing Tools
Build up complex 3D materials using a non-destructive workflow with Toolbag 4's new 3D texturing tools. Paint bespoke detail with the customizable brush system, make on-the-fly adjustments in 3D and UV space, and quickly apply commonly used effects with smart materials and smart masks.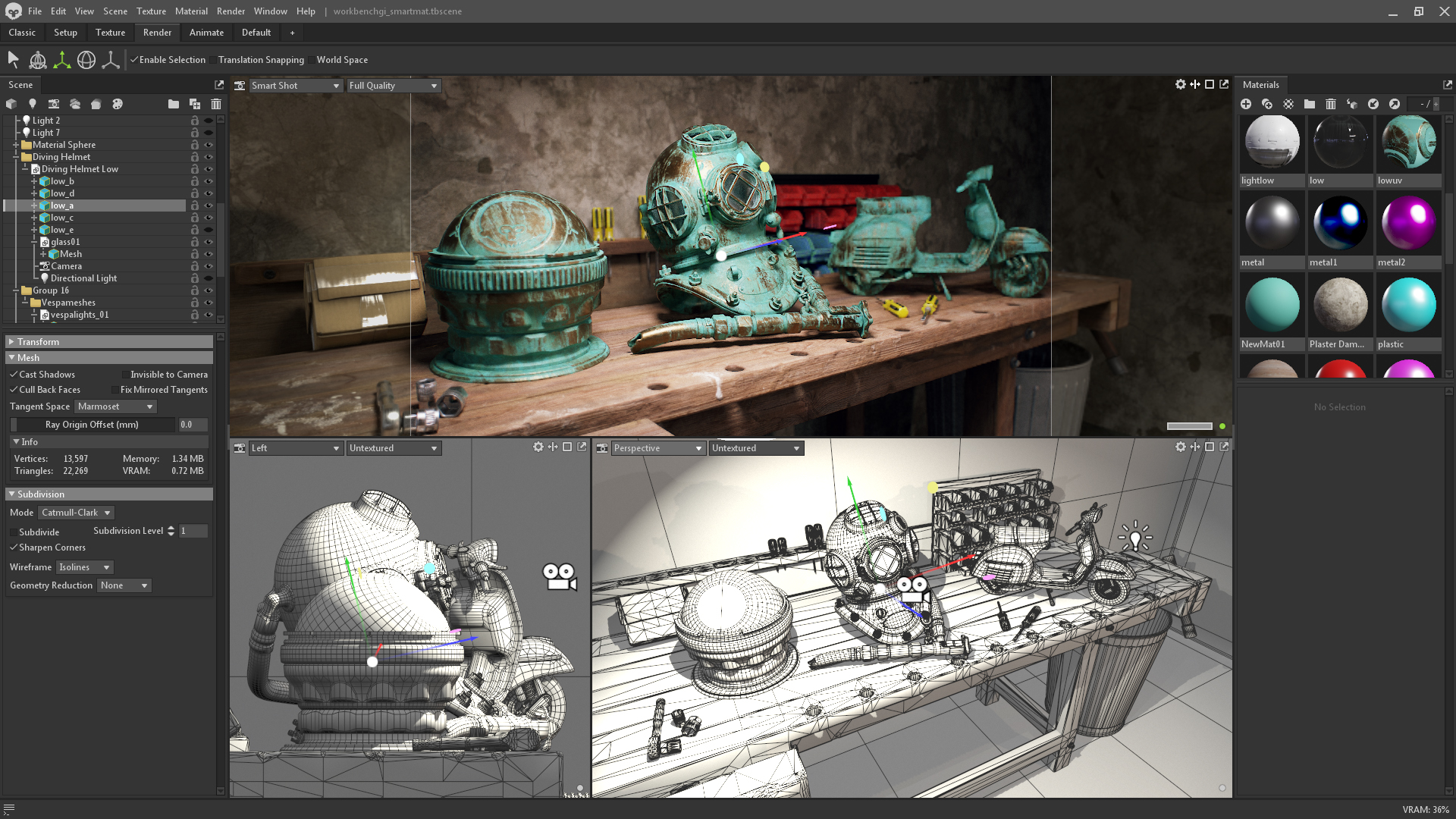 RTX-Accelerated Baking
Toolbag's baker has been revamped to include a new ray-tracing backend and this industry-favorite feature just got a whole lot faster. Bake Projects and Toolbag's new Texture Projects can be live-linked. Once linked, your baking and texturing pipelines remain fully up to date in real-time with any change to your base mesh.